Action User
Action User addon for eventON calendar brings a whole new level of calendar experience to your site. Allow your website users to submit events and control permissions to all the aspects of eventon in wp-admin with this addon.
Event Submission Form
Form Fields
ActionUser also comes with a customizable form that you can add to front-end of your website and allow registered users OR anyone to submit events direct to EventON. You can also moderate event submissions before they are published. Form fields can be re-ordered and select which ones to show in the form.

The Event Submission Form
The event submit form is a very simple yet powerful AJAX driven event submission form.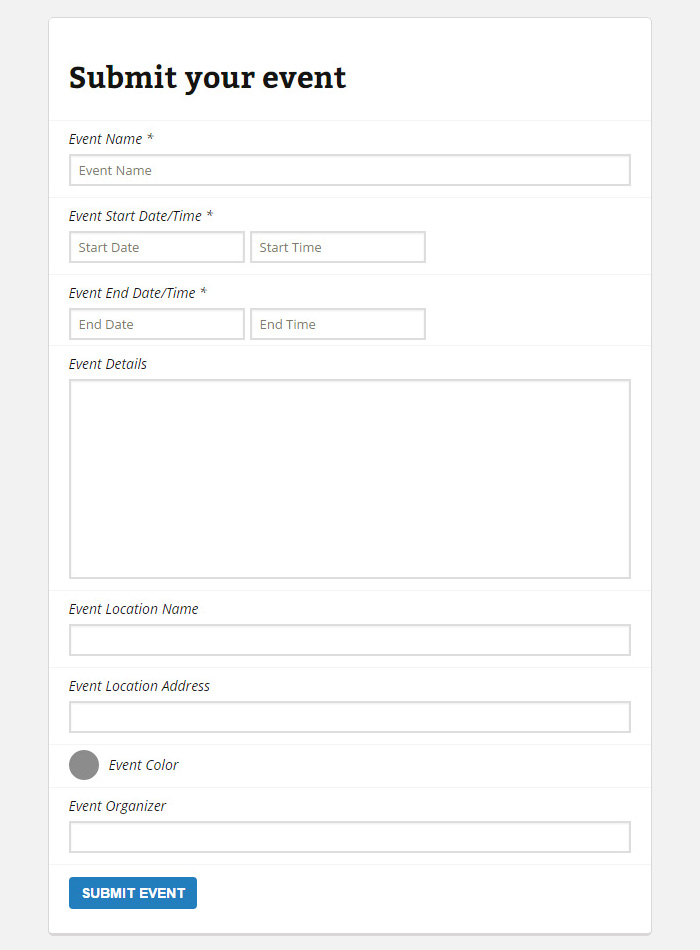 You can also allow users to select existing event type categories or submit their own categories right from the event submission form.

Lightbox Submission Form
Aside the in-page submission form you can also select the form to appear as a lightbox window form, which can be triggered by event submission button that can be placed anywhere in the site.

Send Private Messages to Admin
Event submission form allows you to receive private messages from submitter. This field has to be enabled in the event submission form.

Default Values for Fields
Set event type categories and user interaction values for events with default values. These will be used as default values if user didnt enter values.

Allow One Submission per User
You can select to allow only one event submission per user and this will not allow that user to submit more than one successful event.

Success Message & Submit More
You can easily customize text for success message and everywhere else in the form in eventon language settings and you can allow users to keep submitting multiple events without having to refresh the page.

Redirect to Other Links Upon Submission
Event submission form can be set to redirect the page to another link upon successful event submission. (This can be set via shortcode for event submission form in shortcode generator)

Front-end event manager
This will allow event submitter to edit the events they have submitted from front-end of your website without having to login to backend wordpress. Editing capabilities for an event can be disabled per each event.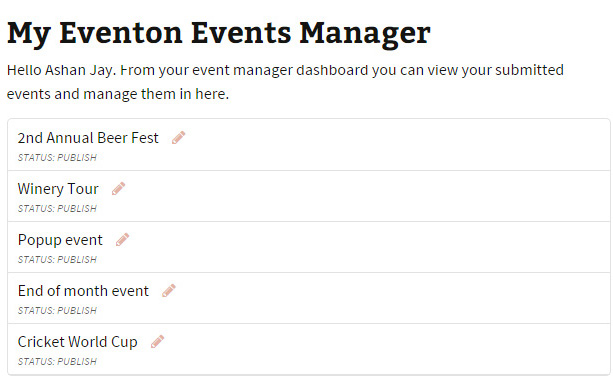 EventON User Permission Control

With this addon you can control each access point to EventON per WordPress user roles. This is a great way for you to manage users of your website and select who can access, edit, view, and publish content related to eventON settings, individual Events, and Event type categories.
Assign Event Users and Filter Events by User

For individual event you can select and assign more than one users of your site. You can use this assignments to filter EventON calendar events by certain User IDs. You can create calendars with events of certain users with [add_eventon users='2,5′]
Send out Notification emails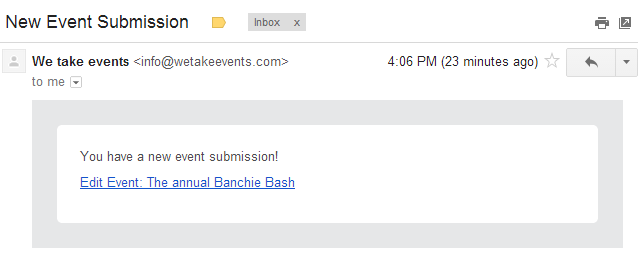 You can send out email notifications to event submitter and more than one admin. From the settings you can customize the email message and from title.  
Other Features of ActionUser addon
Ability to assign all users to an event
Ability to hide repeating fields from event submission form
Buy this Addon
License Type
Choose the license type from below options.
Addon Details
Latest Version 2.0.13
Other Changelog
Release Date September 16, 2013
Requirements EventON version 2.5 or higher
If you're having issues with myEventON — don't try to pull all your hair out… drop us a message and we can help you.
Other addons that complement this