Repeating events
periodic and custom
Event Lists
with multiple months

Easy month navigation

Ton of Options & Customization
#1

Best Seller
WordPress Event Calendar on Envato
.....
2 3 0 0 0 + Installations & Counting..
Filter Events
Filter events by event type categories, location & organizer
Featured Image
For each event you can add a beautiful featured image.
Various Data
You can add variety of other event data for your event in a stylish way that is not cluttered and easy to read for your viewers.
Event Thumbnail
Set event feature image to also show in eventTop

Jump Months
Easily scroll to month and year to see events for exact time.
Short Event Info
Show a quick snapshot of an event info to drive user attention.
Google Maps
Seamlessly intergrate google maps into events to display location of events.
Directions
Type address and get directions to event location
Social Share
Various social media share options for sharing the event
Event Lists
Create basic event lists to show events from multiple months in one place.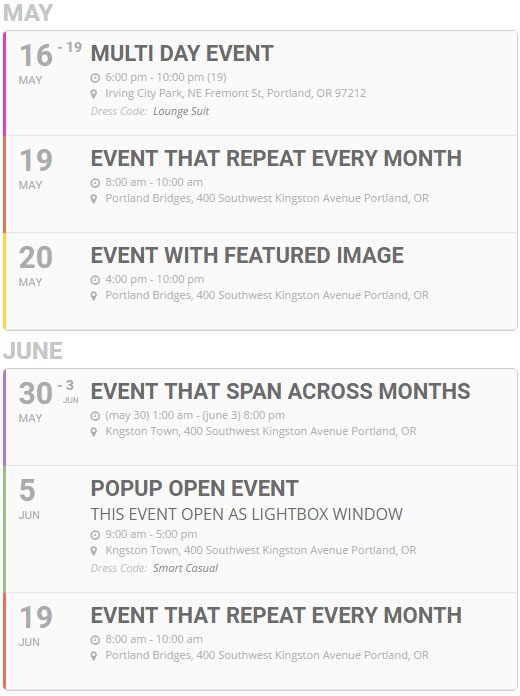 Extend Events Lists and do more with Event Lists Ext. addon.
Event Lists Ext.
One of a kind backend Experience
With our unique shortcode generator, you can create all kinds of calendar variation.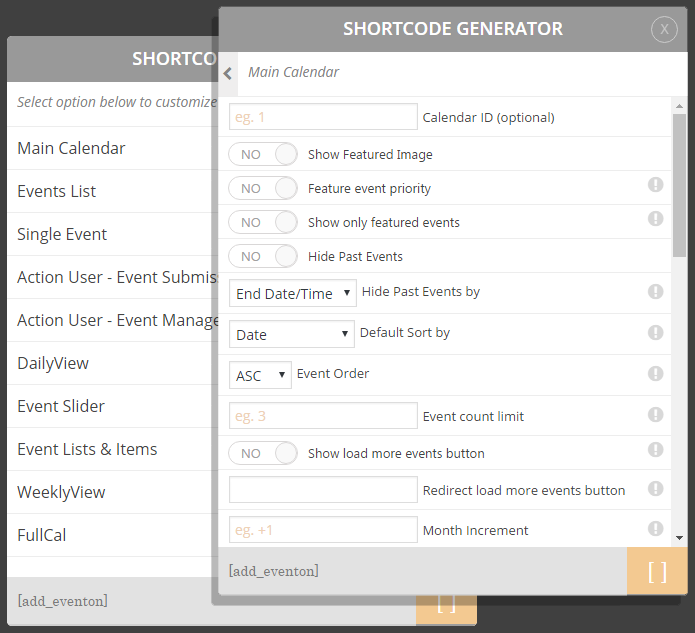 Take eventON for a spin in our dev environment.
Check out backend
Exciting Features of EventON
The amazing features that comes with eventon along with its slick design
Set Custom Colors
You can set custom colors for events and event type categories
Shortcode Generator
EventON comes with a unique shortcode generator that helps you create various shortcodes at ease
Event Widget
You can add calendar widgets or use shortcodes in widgets to create custom widget calendars
Featured Event Images
Set custom images for each event and show them on the calendar
Intergrated Google Maps
Seamlessly intergrated google maps makes it super easy to share location and allow get directions to event
Add Events to Calendar
EventON allow add to calendar and add to google calendar options
Feature Events
Display feature events above others or create only feature events calendars
Re-arrange Event Card
Easily re-order data fields for event card of the event
Jump Months
Jump months allow users to super quickly jump to different months
Repeat Events
EventON allow you to create repeating events with lot of options
Custom Language Text
Type your own custom language text for events and upto 3 languages
Sort and Filter Events
Allow viwers to sort and filter events based on various categories
These are just a few of the features of EventON, there are over 200 features comes with this plugin to your website!
Extend eventON features with addons
Do more with eventON calendar using out continuously expanding addons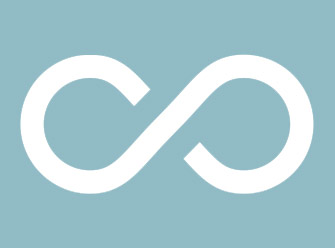 Unlimited

addon updates

buy once and get updates to eventON addons for unlimited times.