Curate Event Criterias
Search
Search events by basic title and description of use advance search to find events with more event data.
Filters
Enable and disable various event data fields for filtering from front end calendar.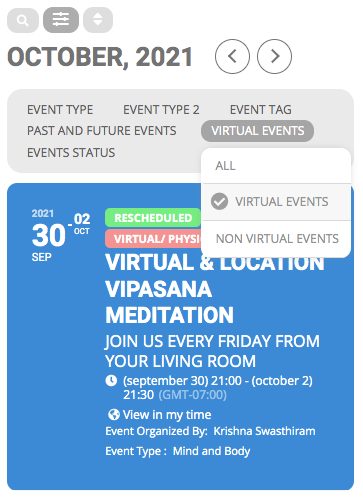 Jump Months
Quickly jump to desired months with the month jumper.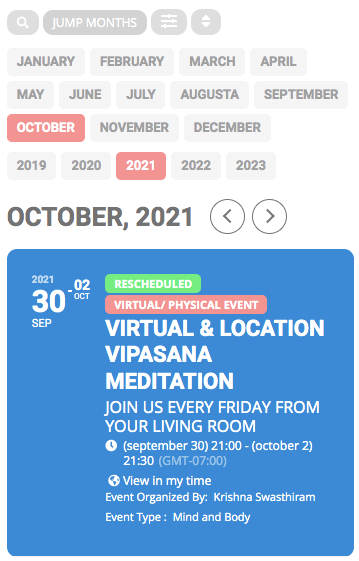 Match Your View Styles
Event Tiles
Cleanly designed event tiles layout offers a beautiful alternative layout for your calendar. Your customers will be able to find the event information quickly with the tiles while drawing their attention right to the minimal design of the tiles.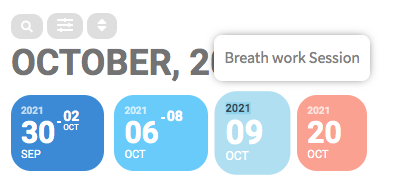 Events Bubbles
When there is less space, a bare minimum event bubbles is what you need to show events in a fun way.
Minimally Colored Calendar
Switch back to our previous default clean style with shortcode eventtop_style='0'.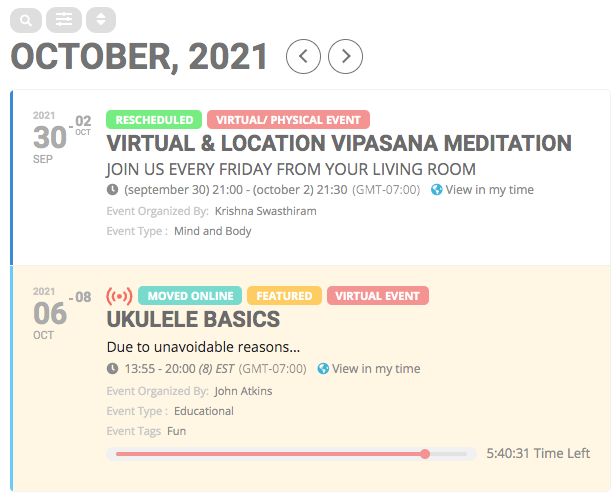 Install. Add Events. Make changes and show off the events.
EventON is built for customized user experience. Most of the aspects of the calendar can be customized easily from back-end UI.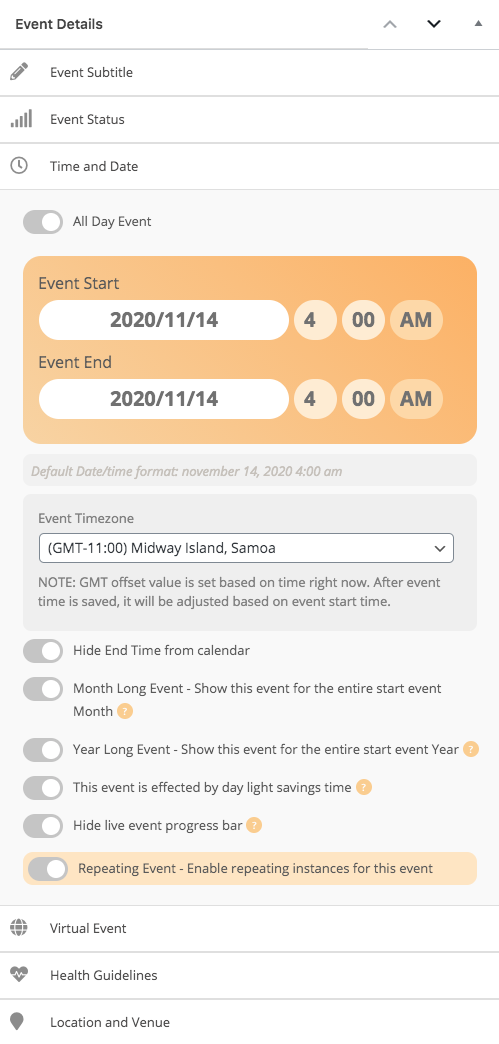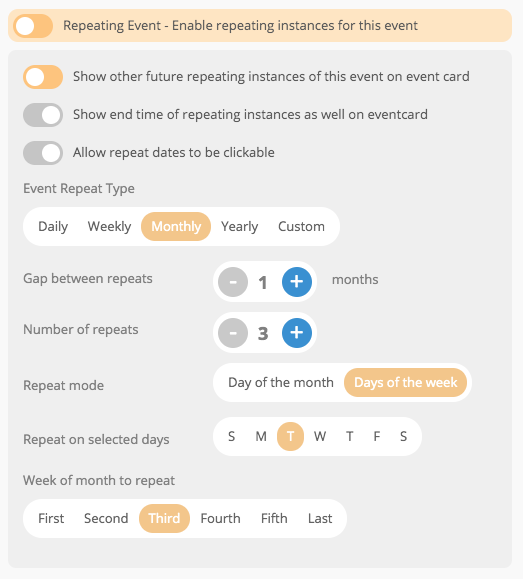 Various Repeat Possibilities
Create unlimited event repeat instances for daily, weekly, monthly, yearly and custom repeat dates.
Cool Shortcode Generator & Gutenberg
Create various calendar types with our super easy and fun to use shortcode generator build right into WordPress as part of gutenberg blocks.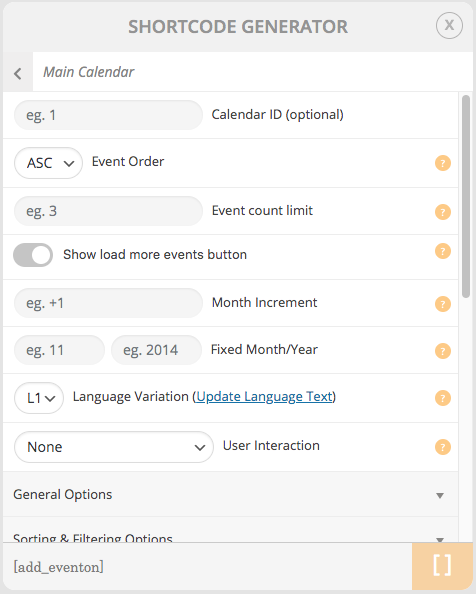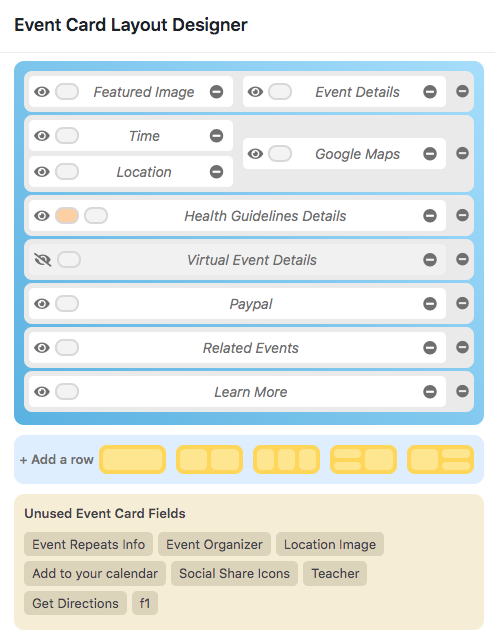 Event Card Designer
Easily organize event card data fields into layouts that best fits your need. Colorize event card fields to give it more importance over other.
Pluggable Functions for Developers
Most aspects of EventON gets run through pluggable filters, so developers can easily hook into them to create or alter dynamic features.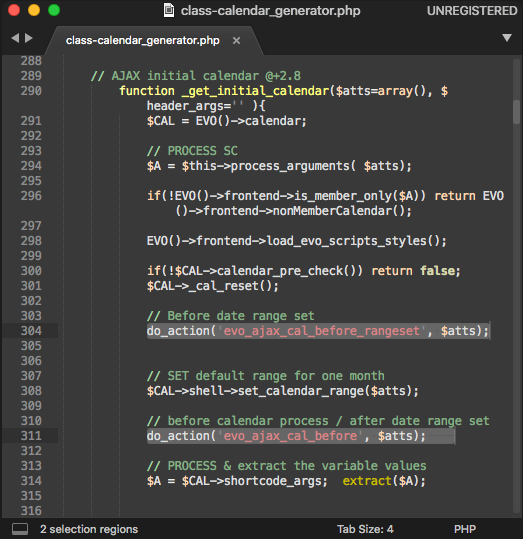 Exciting Features of EventON
Set Custom Colors
You can set custom colors for events and event type categories
Shortcode Generator
EventON comes with a unique shortcode generator that helps you create various shortcodes at ease
Expandable Details
You can show an except of the event with faded teaser of full description where users can see complete details
Unlimited Event Images
Set unlimited images for an event to create a vivid gallery about the event for your visitors
Location maps & Directions
EventON use google maps to display event locations and get directions
Add Events to Calendar
EventON allow add to calendar and add to google calendar options
Feature Events
Display feature events above others or create only feature events calendars
Re-arrange Event Card
Easily re-order data fields for event card of the event
Multi-day events
You can create events that last more than one day
Repeat Events
EventON offers various repeating options such as repeat by days of week and custom repeat schedule that is easy to set for events
Event Categories
Assign events upto 5 category types and create calendars that show only certain category type events
Filter & sort events
Users can easily filter and sort events to find exactly what they are looking for
Custom Meta fields
You can add upto 10 custom event data fields with pluggable extension with various content types
Font awesome icons
You can customize all the calendar icons using supported font awesome retina icons
Custom Time Format
You can easily change date and time format of events to a desired format universally
Social Share Icons
Support all major social share sites plus send via email. This can be easily modified with pluggable functions
User Interaction
Events can be opened as slide down, inpage lightbox, single event page or do nothing
Add Event Organizer
Organizers for events along with their information and image can be reused among other events
RTL Support
EventON frontend calendar support right to left text for those languages that require this
Appearance Editor
Fast and easy appearance editor allow you to customize the look of eventon calendar to match your website styles
Events at location
Location archive pages allow users to see all the events taking place in one location
Span event till end time
You can span an event till end time while hiding the event end time. Specially for overnight end times
Hide past events
Don't show past events, eventon can hide all past events from showing on calendars
Delete past events
Not just hide, but you can automatically set to delete all the past events to keep things clean and upto date
Search Events
Visitors can easily search and find events using build in search bar with optional advanced search
ICS All Events
Allow visitors to download all the events as ICS file that is importable to outlook and iCal
Multi Data Types
Create advanced data connections for events for efficiency and reusability of data
JSON-LD Schema
EventON events comes with JSON-LD and regular schema data support for each event for better search engine visibility
AJAX Pagination
Events can be viewed in increments using ajax based or regular pagination of events on the calendar
Year and month long events
Create year and month long events that will show in the calendar for the whole duration
Auto Complete
Cron based auto complete events once they have passed
Event Types Calendar
Create calendars to show events from only certain event types or not from certain event types
WP Widgets Support
Add eventON calendars into your website easily using WP widgets or use any eventON shortcode inside widget