Event 2.3.13 and its effects
Published on: December 9,2015
Hello guys wanted to say few words about the latest eventON version update and its effect on other addons.
As we speak eventon 2.3.13 is available in auto update and will be available for manual FTP update from codecanyon soon.
Big Change
The biggest change made in this version is the new lightbox HTML and styles, if you recall before the lightbox used to come up and you can scroll the page for the entire height of the page. This is now changed and lightbox will make page body adjust to lightbox height so it is fully focused on the web browser.
Other fixes and updates
There are several other fixes to issues we saw from users reporting that we were able to get solved. Some of those are: event type color override, show more events option to work with tile design, Event card not sliding for some because their theme was added <p> around the <a> event elements, repeating events not saving time correctly for end time and mobile map scrolling disable option.
Cal_id update
As for updates we are not using a custom random generated cal ID if you have not set a cal_id in the shortcode. The idea is now you don't have to worry about putting multiple calenders on the same page and having them work individually. But you can still set cal_id from your shortcode and use this id value to apply styles specific to this calendar.
Monthly repeat update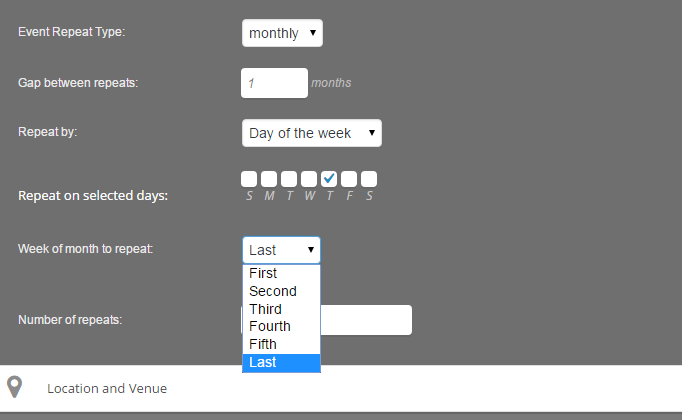 We made few changes to the way repeats save data and how its interpreted. Now you can set last week of the month value as well. Also fixed issues of first occurrence of this type monthly repeats creating duplicate time as initial event time causing various issues on other repeat interval related items.
RTL Update
RTL styles have also been improved. And now the RTL can be set calendar wide instead of via shortcode and addon styles are also getting updated.
Effects of this update
Couple of addons are effected by this update – because of the new lightbox styles. Which are fullcal, reviewer and RSVP addon. As soon as the codecanyon version is out we will release an update to all those addons.