Setup a vendor style website using revenue builder addon bundle
Published on: October 13,2017
Setting up a vendor style website where you are the provider of a market place (event directory) and your vendors (customers or organizers) sell their items (event tickets), can be achieved quite easily with our revenue builder addon bundle along with eventon.
Revenue builder bundle for eventON comes with all the necessary addons for your website to setup an automated event submission and event ticket sales system that will power vendor needs. I have covered some aspects of automating your day-to-day ticket sales process in a previous article.
What is Included in The Bundle
Revenue builder bundle comes with four of our top selling addons that are packed with valuable features. These addons are: ActionUser, ActionUser Plus, Tickets and QR Code addon.
How to Charge Vendors for Event Submissions?
Not everyone will want to charge your vendors to submit events to your event directory. However, if you do like the idea of charging vendors for submitting events to acquire prime space in your eventON powered event directory, that can be done using our actionUser and actionUser Plus addon.
ActionUser addon will give you the power for frontend event submissions. Using ajax driven form. But actionUser plus addon takes this further and will allow you to create level based event submissions packages, which your vendors can buy in order to submit events.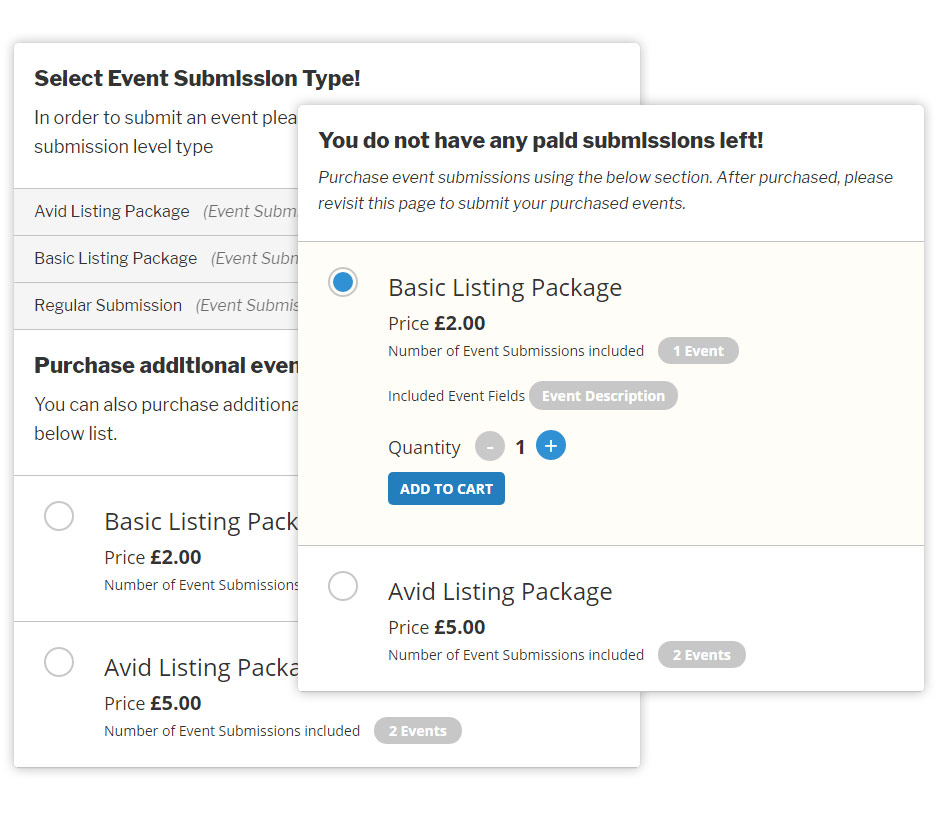 This will allow you to have multiple organizers or vendors who will have an account in your website and can buy submissions in order to submit events to your directory. Again, actionUser plus is an option that you dont necessarily need, unless you intend to charge for event submissions.
Tickets Sales on Submitted Events
Our tickets addon is compatible with actionUser addon – meaning, once tickets fields are enabled for actionUser event submisison form, vendors can chose to sell tickets for the event they submit and provide ticket details such as price, stock, SKU etc. The ticket fields will look like below in the event submission form.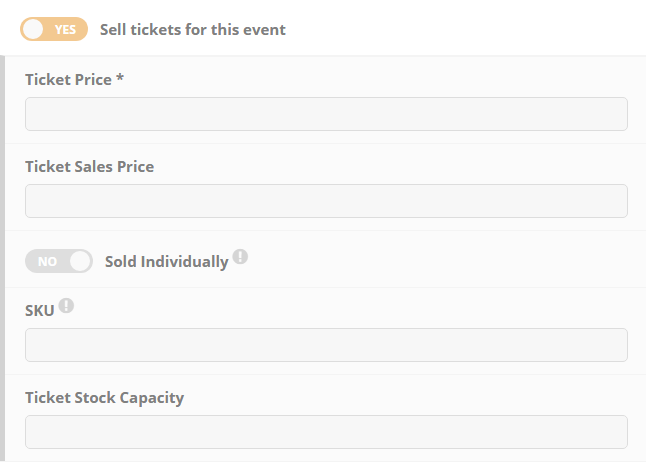 Fully Automate Event Submissions or Semi-automate
In actionUser settings you can select how to treat new event submissions. You can set default publish status to be draft – in which case you will need to manually publish these events (aka approve the event to show in your event directory) or set default publish status to publish – in which case, you dont have to do anything the event will get posted on your directory without any supervision.

But it is nice to have control over what get published on your event directory. So most of our customers choose to leave this at draft status.
Charging Commission on Ticket Sales
The great part about eventON tickets addon is that it is powered by woocommerce. Meaning, tickets sales and checkout process for ticket sales are 100% handled by woocommerce. So a commissions or split payments can be done easily for woocommerce sales. However, EventON does not have a native addon that support split payments or commissions, so for this part you will need a 3rd party plugin.
Woocommerce Vendors addon https://woocommerce.com/products/product-vendors/ is a great option for this or you can find other 3rd party plugins for woocommerce that support splitting payments.
Vendor's Manage Events
ActionUser addon comes with a frontend event manager setup that makes is easy to allow vendors to manage their already submitted event and information for those events. Learn more on how to set up event manager for users.
Vendor's View of Ticket Sale Data
Event vendors will be able to see a great picture of event ticket sales from their event manager on front-end of your website. You can also allow vendor to checkin guests at their event by enabling event tickets settings > General Settings > Allow event creator to checkin guests via event manager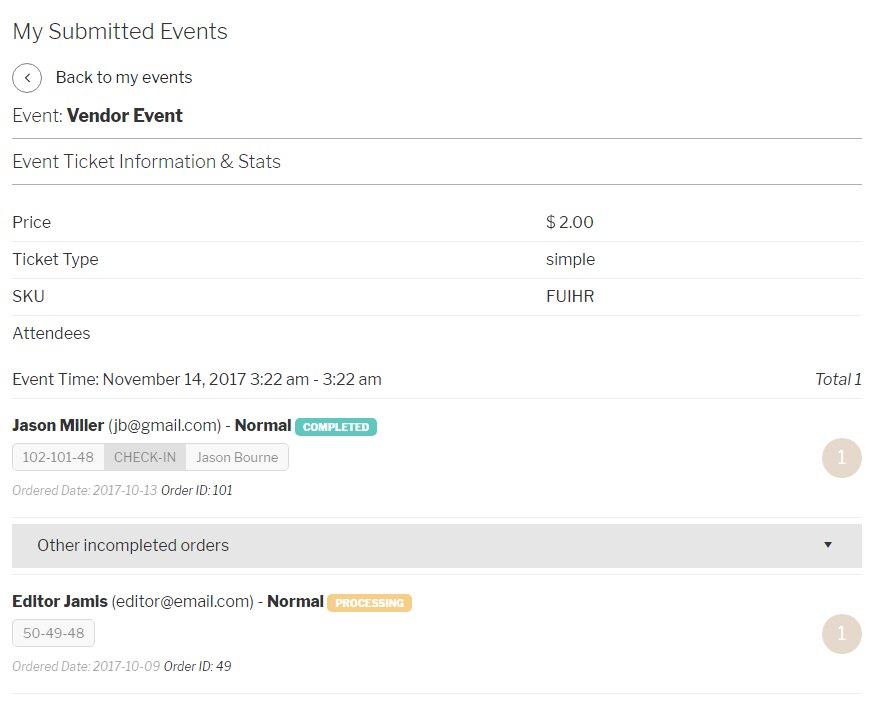 QR Code Checking
The final step of this whole set up is allowing your vendor to checkin guests using the QR Code addon. Learn more here on how to set up QR Code addon. Once that is set up properly, vendors of your site can easily checkin guests at their event using their mobile phones or using a QR Code scanner.
There you have it, the whole process of vendors adding events to your site – paid or unpaid, setting up ticket sales for those submitted events and checkin in guests at their event using QR Code scanners all while you collect revenue from your vendors.
EventON has been around for almost 6 years now and we are always improving the functionality and user-friendly-ness of our software suite and making them all work cohesively. Which means, in the upcoming updates to our software you can always count on seeing new features that will make your life and your vendor's life easier and pain-free!
Buy Revenue Builder Addon Bundle